The Skyscraper Museum is devoted to the study of high-rise building, past, present, and future. The Museum explores tall buildings as objects of design, products of technology, sites of construction, investments in real estate, and places of work and residence. This site will look better in a browser that supports web standards, but it is accessible to any browser or Internet device.
Tuesday, May 14, 2019 6:30-8:00 pm

Andrea Barnet Book Talk
Visionary Women
How Rachel Carson, Jane Jacobs, Jane Goodall, and Alice Waters Changed Our World

Ecco, 2018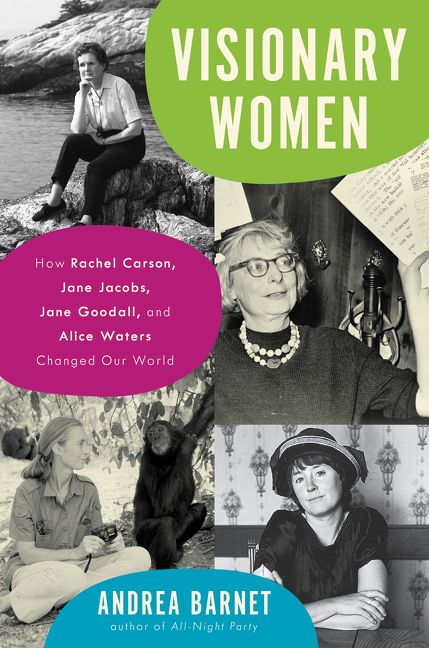 Visionary Women is the story of four renegades - Rachel Carson, Jane Jacobs, Jane Goodall and Alice Waters - who found their voice in the early 1960s and profoundly shaped today's world. With a keen eye for detail, Andrea Barnet traces the arc of each woman's career and explores how at a time of enormous social upheaval, all four worked against the corporate culture of the 1950s, prevailing against mostly male adversaries and anticipating the emerging counterculture. For her talk, Barnet will focus on New York urbanist Jane Jacobs and her revolutionary book The Death and Life of Great American Cities (1961) and Rachel Carson's Silent Spring (1962) which helped to launch the environmental movement.

Andrea Barnet is the author of All-Night Party: The Women of Bohemian Greenwich Village and Harlem, 1913-1930. She was a regular contributor to the New York Times Book Review for twenty-five years, and her journalism has appeared in Smithsonian Magazine, Harper's Bazaar, The New York Times, Elle and the Toronto Globe and Mail, among other publications. She splits her time between the Hudson Valley and New York City.
The exhibitions and programs of The Skyscraper Museum are supported by public funds from the New York City Department of Cultural Affairs in partnership with the City Council.